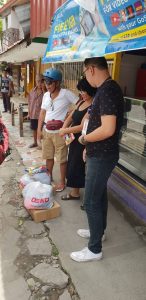 While Ompong was threatening the northern part of the Philippines, a fire broke out at Barangays 59 and 62-B, Sagkahan, Tacloban City.
Based on reports received, the fire started around 2:30 in the morning. The fire totally damaged 6 houses, 12 market stalls, and 2 shared houses, while it partially damaged 1 house. Nine families (47 individuals) were affected. These individuals temporarily stayed with their neighbors outside the evacuation centers.
The Department of Social Welfare and Development provided relief to the victims of the fire. In partnership with the City Social Welfare and Development Office, DSWD provided family food packs, each containing 6 kilos of rice, 4 cans of beef loaf, 4 cans of corned beef and 6 sachets of coffee.
Aside from the FFPs, DSWD also provided hygiene kits, kitchen utensils, mosquito nets, plastic mats, blankets, bath towels, malongs, toothbrushes and toothpaste. The CSWDO distributed the relief items, and provided 122 pieces of assorted clothing. Overall, the assistance provided cost P62,182.00.
#DSWDMayMalasakit
#DSWDParaSaNakararami