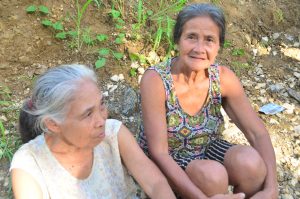 "I want my son, Miguel to know I'm okay. He's in Campetic, Palo right now. I'm asking him to send us money. " says Lola Maria, a resident of Jipapad, Eastern Samar. She is just one of the residents in Jipapad who were affected when Tropical Depression Samuel caused a flashflood in the municipality.
According to the Municipal Disaster Risk Reduction and Management Officer, it only took two hours for the water to reach the second storey of most houses. The residents generally describe it as the worst case of flooding to occur in the municipality's history. Due to its speed, most of the residents were unable to save anything. Electricity and communications were also shut down. Transportation also became increasingly difficult since the roads were prone to landslides.
Despite these challenges, the Department of Social Welfare and Development promptly came to Jipapad directly after the distribution of relief goods in Oras. On arrival, DSWD staff immediately proceeded to deliver family food packs (FFPS) to the affected residents.
Although ground communications were unavailable, DSWD staff were still able to coordinate logistics through the use of satellite equipment, such as the Inmarsat Cobham Explorer 710 Broadband Global Area Network (BGAN) terminal and an Inmarsat Satellite Phone. Using these equipment, DSWD was able to coordinate with the regional office, Philippine Army and the Department of Public Works and Highways (DPWH). Working together, these partner agencies were able to transport FFPs from Tacloban City to the distribution tents.
Over-all DSWD has a target of 2,448 families. As of November 25, 1,334 families have been served. Further distribution of relief goods will be scheduled.
Each DSWD FFP contains 6 kilos of rice, 4 cans of beef loaf, 4 cans of corned beef and 6 sachets of coffee. DSWD would also like to remind the public that these FFPs are not for sale.
#DSWDKalingaAtPagmamahal