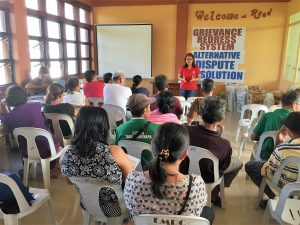 As the program implements Community-Driven Development -Local Planning Process (CDD-LPP) harmonization, the DSWD Field Office 8 conducts the Grievance Redress System (GRS) training for its 23 LGU-led municipalities. The aim of the activity is to emphasize the roles and functions of GRS committee (comprising of Community Volunteers) as GRS committee members. Each barangay of 23 LGU-led municipalities should have an established and operational grievance committee who are oriented with GRS.
The one-day training deals on GRS principles and its components including grievance installation, handling and monitoring structure, grievance handling procedure, monitoring and reporting and a discussion on issues and challenges.  One methodology for training is role playing on how a GRS committee member handles grievance.
Grievance Redress System is one key feature of Kapit-Bisig Laban sa Kahirapan  Comprehensive and Integrated Delivery of Social Services that upholds the principles of transparency and accountability, thus yielding an opportunity for community empowerment.  This mechanism sustains the community's right to information – full access to information about the program and right to participate and be heard– to air out problems, issues, comments, opinions on program implementation.
As of this writing, 21 municipalities have already undergone the same training. And the remaining two municipalities are to be conducted the following week.  To date, there are 7,933 resolved cases of grievance out of 7, 935 in Region VIII.#