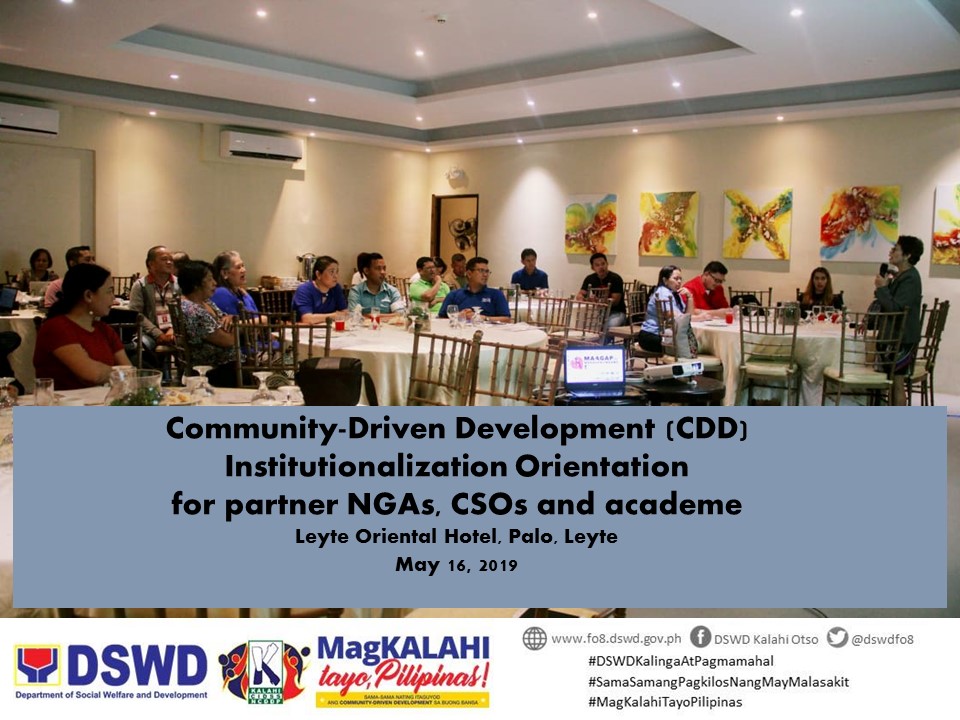 DSWD Kalahi CIDSS Region 8 conducted a Community-Driven Development (CDD Institutionalization) Orientation with partner National Government Agencies, Civil Society Organizations and Academe on May 16, 2019 at Leyte Oriental Hotel, Palo Leyte.
The activity is part of the region's advocacy plan to strengthen partnership and intensify policy support in institutionalizing CDD as a strategy for inclusive growth, poverty reduction and community empowerment.
Among the topics were the National initiatives towards CDD Institutionalization, and Kalahi CIDSS Ways Forward, presented by Social Welfare IV, Ma. Consuelo Acosta, of the National Program Management Office. Acosta discussed the Operationalization of CDD in agencies and CSOs, and the Creation of a CDD Institutionalization Knowledge and Resource Center (KRC) by which partnership with academe is deemed vital.
On the other hand, Kalahi CIDSS Regional Program Coordinator and OIC Chief, Promotive Services Division, Natividad Sequito, sought for unity in continuously touching the lives of community folks and it is achievable through making CDD a national strategy.
OIC Regional Director Yvonne Abonales affirmed that the road to institutionalizing CDD will be long. However, she is optimistic that it will be realized because CDD has been proven effective in attaining local empowerment, participatory governance, demand-responsiveness, administrative autonomy, greater downward accountability, and enhanced local capacity.
The activity ended with the pronouncement of commitments by the attendees, who represented their institutions in supporting the undertakings on CDD Institutionalization.