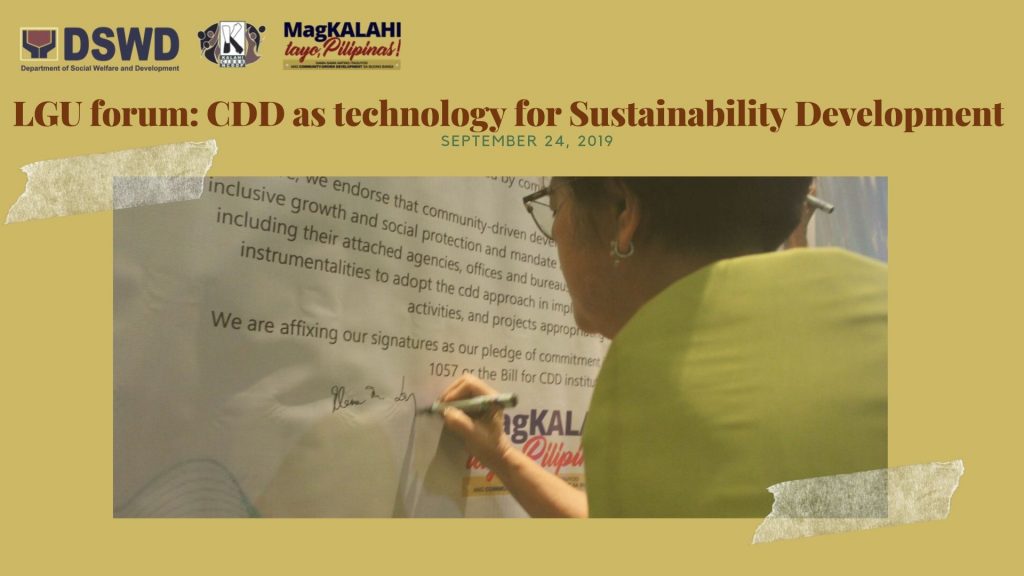 As part of its advocacy campaign to institutionalize Community Driven Development (CDD) process and activities in local development, the DSWD Kalahi CIDSS Field Office VIII conducted a Local Government Unit forum on September 24, 2019 at the Oriental Leyte Hotel, Palo Leyte.
The said activity was participated by the Local Chief Executives (LCEs) and Municipal Inter-Agency Committees (MIAC) representatives for the outgoing 23 LGU-led municipalities.
Assistant Regional Director for Operations Marcelle Lim, in her message, says" I dare you to be the mentor of change and cultivate the culture of CDD not only in your municipality but also to other municipalities. Because at the end of the day, we are one nation who will benefit from this sustainable development. Therefore, let Community-Driven Development be the language of addressing poverty in your municipality and Let MagKalahi Tayo Pilipinas be the resounding call for change."
CDD is an approach to local development that gives control over planning decisions and investment resources to communities. The Regional Program Management Office first presented the project terminal report of the outgoing municipalities.
Apart from that, local chief executives of the outgoing municipalities pledged to lead in advocating CDD even if the implementation ends. They also accepted the responsibility to be mentors of LCEs to other municipalities on how the latter could integrate or harmonize the CDD principles in their local planning process.
The forum was also an avenue to give recognition to the LGus as a way of celebrating the milestones as a result of their support, which led to positive contributions for the improvement of well-being of the members of its target communities.
For one, the municipality of Barugo has their newly approved Implementing Rules and Regulations of the ordinance for CDD Institutionalization which was shared during the forum.
To date, there are 3 CDD bills filed in Congress by Congressmen Maximo Dalog Jr. (Mountain Province, 1st District), Linda Bolilia (Batangas, 4th District), and Allen Jesse Mangaoang (Kalinga, Lone District) known as HB 4407, HB 4470, and HB 4764 respectively and one (1) in the Senate by Senator Risa Hontiveros Senate Bill No. 1057 or the COMMUNITY-DRIVEN DEVELOPMENT (CDD) INSTITUTIONALIZATION ACT.