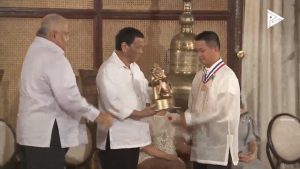 From mopping floors to making sure that relief goods are properly stored, to being a Dangal ng Bayan Awardee, Rey Peñaranda has certainly come a long way. Rey is an Administrative Aide, currently assigned at the DSWD's Regional Resource Operations Center, where he oversees the warehousing and logistics of relief items such as family food packs and non-food items.
Rey's work is marked with passion, care and teamwork. His experiences as an Internally-Displaced Person during super typhoon Yolanda have shaped his work ethics.
Now, as a Dangal ng Bayan awardee, Rey continues to inspire his co-workers at DSWD to serve even more better.
The Dangal ng Bayan Award is conferred by the Civil Service Commission to an individual for the performance of an extraordinary act or public service and consistent demonstration of exemplary ethical behavior on the basis of his/her observance of the eight norms of behavior provided under Republic Act No. 6713 (Code of Conduct and Ethical Standards for Public Officials and Employees).
This is his story.
"May 5, 1995, I started as a janitor. I was a janitor from 1995 to 2010. At that time, I had three children. I was, then, a working student. While working at DSWD, I was also studying Criminology at Leyte Colleges."
It was in 2011 when Billy Berino took me as an administrative clerk. I was a clerk until 2015, when both of us were given a temporary assignment at the warehouse. Years passed, the warehouse is now the Regional Resource Operations Center and we're still doing what we're doing. It's like a permanent job. From doing clerical work, I now focus on warehousing relief items and logistics. I started at DSWD when I was 22 years old. I am now 46. That's almost 24 years!
"I consider Sir Billy my mentor. He is the kind of leader who isn't selfish. He shares his ideas, knowledge, even trainings. He supports us all, emotionally and spiritually. He respects and trusts us. That's why the work feels light. He taught me how to focus on my work. You can never leave a job half-finished. You stay with it until it is complied. If you can't finish it, ask for help. If you don't know how to do it, ask. It's better to accomplish something when you ask, when you're taught, when you learn rather, than when you don't know what you're doing. That's real accomplishment!
That's how we are as a team. Of course, there are times when we fail. But that's when you should ask for help from your team. That's why I share this award to the team. You cannot win an award alone. It's a team effort.
As RROC improved, I can also say that I have improved. I've become more responsible. Before, I didn't really focus on work. I'd tell myself that it wasn't my problem. But now, I don't want to waste the government's resources. And I know what an evacuee has gone through, because I myself have been an evacuee. So for my part, I did my best at work to provide the best I can to fellow disaster survivors."
From my level, I made sure that the food, the resources were protected and properly packaged. We took good care of these items. We prepared it well. We made sure that the beneficiaries receive these relief items with the same level of quality and care that we put into it. Sometimes, we would call our counterparts from the local government units to remind them to take good care of these items, to make sure that they don't get wet, to make sure they're stored properly.
It's not just food that you put into these boxes, it's your love. You put your love in when you think of the family who will receive. When they see these family food packs (FFPs), when they are able to eat, they have love. This is what DSWD gives.
Disaster survivors have been through a lot, and of course, they would feel bad if they receive expired goods. Instead of being grateful, they'd be angry. Whereas, if you give them something good, well-packaged and clean, they'd feel better. They might even show it off to their friends. They can say that what DSWD gives is good. That's why I always say that if the items are no longer fit for human consumption, then they shouldn't be given."
Before Yolanda struck, our house stood by the sea, but eventually, it was totally washed out. I wasn't able to save anything. All I had were two shirts and the pants I was wearing. We stayed at the evacuation center in Rizal Central School to seek refuge and prepare for the coming supertyphoon. My family lived in a tent for more than two months.
Part of the personal sacrifices that I made as my service to the country is that sometimes, I cannot be with my family. However, I am confident with my family. I have taught them to be resilient. Shortly after Yolanda, I was assigned in Isabel to help oversee the warehousing of relief goods. My children had their own responsibilities. My youngest took care of my parents – my father is a PWD and both of them are senior citizens. My daughters took care of the family. It's a blessing that they don't really like going out, especially since they knew that those were difficult times.
I also owe a lot to my wife, because she carried out my responsibility when I was away. She became both mother and father for the family. This is part of the sacrifices I made. This is in fulfillment of my sworn duty to serve the people.
Find the time. It's just a matter of time management. When I was a working student, I had to find balance between work, family, and school. It was easy for me. As long as you don't neglect anything, you can enjoy it all.
I am proud of my kids. I have five children. One is a councilor, two are working in DSWD – one with KALAHI CIDSS, and the other with Convergence. One is already a licensed criminologist and is now applying for a job, while the youngest is now in college.
I am proud that I have a daughter who graduated cum laude. I am proud because in spite of the difficulties, there will always be a bright future if you don't neglect your obligations to your family. This shows what kind of father you are, because if you are irresponsible, then your children won't have a good future.
So far, I don't see myself as a successful person, yet. When I see my children have families of their own, when I see that they live well, that's when I'll consider myself successful. I think that my kids graduating from college is a success. It's a gift from the parents. But for me, the success of my children is my success. I would like to see them with their own families. I would like to see them live well. That is my simple hope. Because being successful alone is pointless. It's better for me to see my children succeed.
I am just an instrument. If there is anyone who deserves recognition, it's all of us here at DSWD. Everyone deserves to be congratulated. Don't focus on the one receiving the award; rather, focus on what getting this award means. This award is symbolic. This is our recognition for our work.
The award is meant to encourage government employees to improve their service. We should always remember that we waste taxpayers' money when we do not do our best. Especially nowadays. Prices are high, and people still pay taxes.
This award is symbolic for all of us. It is a recognition for the sacrifices we made that the public cannot see. We are now a part of history! I am not claiming this award for myself, but for all of us who work at DSWD. Don't look at the person who receives this award, look at what this award represents.
"Our unity, our teamwork, our efforts have earned us this award!"
See the awarding here: https://www.facebook.com/PTVph/videos/292303174710444/
ctto
#DSWDMayMalasakit
#DSWDParaSaNakararami