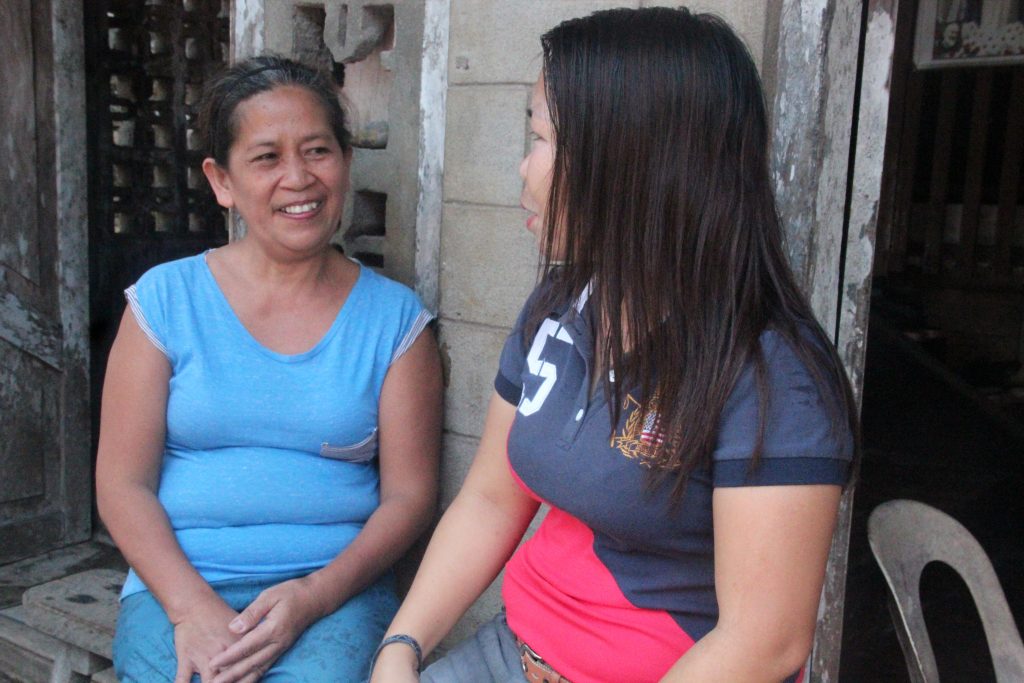 Poverty reduction is often associated with infrastructure development. However, this claim is true because it creates an income opportunity and provides basic services most especially to the marginalized sectors of the society.
But more than this infrastructure development is what we can call human development. In Kalahi CIDSS, sub projects are the results of the collective and compassionate action of the people. Women roles in these activities are also heightened under the program. Indeed, the involvement of communities to the planning and implementation is seen in Kalahi CIDSS as an effective approach in poverty reduction.
Creating a safer, better place for everyone
Basic services opened to better opportunities for people to access sanitation, education, safety , electricity etc.
In Brgy. Poblacion 9, Llorente Eastern Samar, it has been the hope of community to lessen the unsafety in street and canals. According to Lisa Gade, a community volunteer, there has been accounts of theft in their barangay because of no lighting. It poses fear and danger to the residents that is why they aim for street lights. Ms. Gade affirmed , "Before, the street was so dark it invited theft and accidents. And I have been a witness to those unfortunate situations."
It is accounted that 40 per cent of the labor force in the barangay was affected due to the danger posed by this dim place. Affected are people who sell barbeque and other foodstuffs and drive 'padyak' during night time. They did not have much clients because people were afraid because of incidents of theft and violence.
The community also needed an intervention to minimize danger, most especially for seniors and children. For Salvacio Borabo, a brgy.counccilor, children usually fell in the canal because it had no cover in it. And seniors were also exposed to the risk. Drainage canal and a concreting of staircase became their priorities.
The stairway and drainage canal are the community's identified interventions for Kalahi CIDSS National Community Driven-Development Program (NCDDP) Cycle 1 and Cycle 2. However, the seven-unit-solar street lights is funded by the local government unit is implemented under Kalahi CIDSS LGU-led implementation.
Women on duties outside home
Behind every successful implementation are selfless community volunteers who discovered their potentials to help in implementing a sub-project. Enter in the picture, Salvacion Borabo and Lisa Gade, who were not exposed to things and activities outside home and sharing opinions and views to communities were out of their mind.
Salvacion Borabo was a procurement team member turned barangay official. She asserted how the Kalahi CIDSS expanded her horizon as to the roles of women outside home. She used to only be a simple housewife, taking care of her seven children. It is what she only saw herself doing for she was a highschool undergraduate. But Kalahi CIDSS tries to eradicate the wrong notion that only with diploma can serve the communities and voice out their needs.
Same story was told by Lisa Gade, a Procurement Team member under LGU-led implementation. She only knew she would be taking care of her three children in her whole life. But Kalahi CIDSS changed her perspective. She is now active in attending assemblies and engaging meetings since she became a Kalahi CIDSS community volunteer. Her husband has been supportive to her new career. Her husband took care the responsibility in their household when she was attending assemblies and meetings.
Gade tried to do labor work in Kalahi CIDSS sub-project implementation by which she can contribute to the expense in their house. Through Community-Driven Development, women's roles in socio-economic development heightened. "Kung ano it kaya han lalaki, kaya ga'it han mga babaye [Women can also do things which men do]", she added.
On continuing CDD process
Borabo appreciated so much the Participatory Situational Analysis wherein the community is engaged in identifying their most pressing needs.
She added, "I witnessed myself and other volunteers being educated in the program implementation process, most especially during the participatory situational analysis wherein the opinions of ordinary citizens' matter. "
Nonetheless , Gade stated that what she appreciated about CDD is that community's unity is enhanced and that women become more involved in development activities and is a refreshing experience for her.
Human development vs infrastructure development
Through Kalahi CIDSS program, communities and local government units have built hanging bridges, health stations, day care centers, school buildings, farm-to-market roads and bridges, common service post-harvest facilities and planning of mangroves. In the case of their barangay, Kalahi CIDSS sub-projects such as drainage canal, concreting of stairway and solar street lights brought safety and peace to residents. To date, LGU Llorente has only remaining five sub-projects set to finish this June 2019.
On the other hand, Kalahi CIDSS also invests in human development, more than the infrastructure development because it is the means and ends in combatting poverty. The objective of development is to create an enabling environment for people to enjoy long, healthy lives. The community and women have played an integral roles in this envisioned development. To date, there are 495,831 women Community Volunteers in Eastern Visayas.