Kalahi CIDSS , using a Community-Driven Development approach , continues to advocate for the mainstreaming of disability agenda which is integrated within its objectives of community empowerment and processes.
In the municipality of MacArthur , Leyte, there are Persons with Disabilities who did not see their impairments as shortcomings to enable them to participate in the development activities.
A little step for change
Bonifacio Tiozon, 61 years old of Brgy. Tina awan, has impairment in his left leg as a result of his motor accident in 1988.  At first glance , people who don't know Bonifacio will consider him as a normal person. But when he walks, you would notice how he strives just to be able to get to his destination. He still works in his ricefield to provide for his wife and two stepdaughters. Despite his struggles, he finds time to do volunteer work in the need of barangay. He believes that every citizen in the barangay has the right and responsibility to participate in the development activities. It does not exclude the impaired persons like him. He says " Kailangan naton nga bumulig hin mga patawag nga asembliya ngan miting kay aton ito katungdaan sa barangay [ We need to attend to the calls for  assemblies for because it is our responsibility to the barangay]."
He also does not see his impairment and age as an obstacle to be a Community Volunteer of Kalahi CIDSS. Currently, he is a Procurement Implementation Team (PIT) member. He added, "Maaram ako na mayda ako maibubulig sa mga tawo. Ginhimo ko nga inspirasyon an mga bata nga natabok ha diri pa upay ngan diri gud naaagihan nga kalsada tungod kay maputik an dalan labi na kun nauran. Makikit-an mo an iba nga bata nga naniniguro na makasulod la ha eskwelehan. Nalalapukan hira tas an iba diri nala nadayon pagsulod sa eskwela [I know that I can do something good for my fellow citizens. My inspiration are the children who manage to cross the road even when nearly impassable due to potholes and muds, the situation becomes worsens during rainy days.You can see other children persevere just to get to school. But other students were discouraged to attend school because of the situation.]."
He also experienced how challenging it is to cross the once muddy road most especially with his condition. Because of this, he was even more motivated to make their sub-project of 282 meters elevated pathwalk, possible. He added that he also contributed to labor in order to feel a certain ownership for the sub-project.
Forward-looking, he sees himself still serving community as a volunteer in Kalahi CIDSS with other agencies because he sees it as small steps for change for himself and for the community.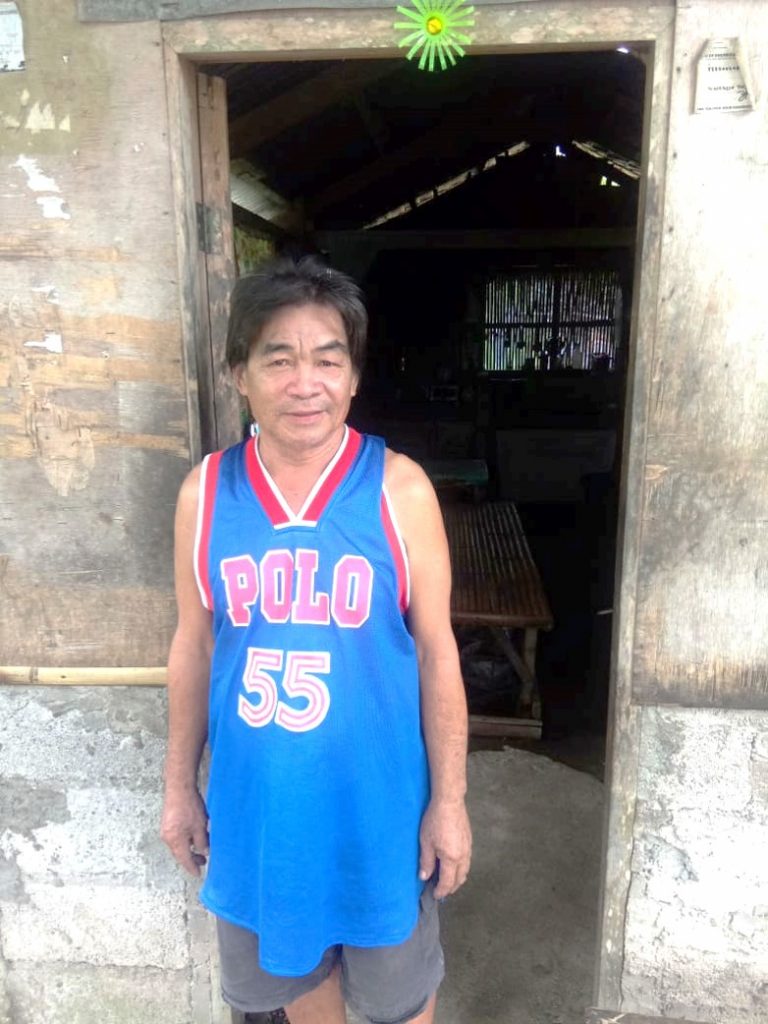 Volunteerism as a legacy
"Para maaram ako han proeso han mag implement han proyekto. Nakikit-an ko liwat kun papan-o maningkamot an mga tawo nga makatabok tikang ha ira balay. Naisip ko na makabulig ako."
[To get to know the process in implementing the sub-project. I also see how the people struggle in crossing the road from their home. So I just think I might help them."
This is the response of Edna Bayag, a 34 year-old with Tourettes syndrome, when asked why shechose to be a volunteer in Kalahi CIDSS?
She strives to talk despite her difficulties , with her head involuntarily and unceasingly moving. Her condition has started to haunt her when she delivered her first child. She was hyperventilated the time she was delivering her first child. Fortunately, the child was born healthy . But her second child did not make it. And Edna's situation got worsen since then.
Her mother , Lolita Bayag, recounted how Edna, her daughter really wanted to be a community volunteer and how she took pride of it. She said, " Nalilipay ako na makit-an hiya na may ada nabubulig ha iba bisan nga mayda hiya gin aabat."
(I am glad to see her being of service to others despite her physical condition)
Lolita was even once a member of Operation and maintenance in the previous implementation of Kalahi CIDSS in her barangay. For her, she really wanted that the sub-projects will be well-maintained so that it will be enjoyed in the next generations.
She added, "Tapos na ako mag-volunteer. Oras naman niya [Edna] nga maging volunteer liwat. Nakikit-an ko nga dako an kalamboan ha iya kalugaringon."
Lolita added that Edna was the one who informed people to attend for the meetings and assemblies at the time Lolita was the volunteer.
Now that Edna is a community volunteer, her mother and husband took care of the Edna's child when she is not around.
Edna is happy to tell that Kalahi CIDSS has taught her a lot of things specifically how to canvass material and take into considerations the lowest and responsive bidder.
Lolita Bayag is hopeful that what she has passed on to Edna as a legacy will be continued in the next generations.
(From left to right) Lolita and Edna Bayag are proud to be part of the accomplishment of 282 meters pathwalk.
Servant leader with cleft palate: The voice of the people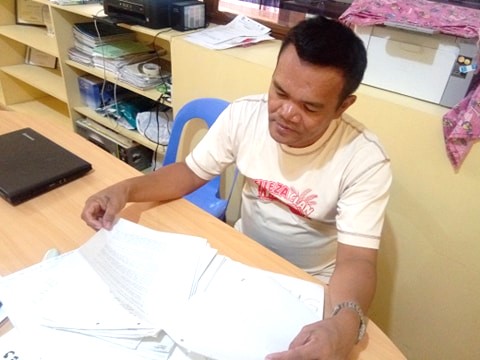 Edwin Bausal, 44 years old, returned to serving the people when he volunteered for Kalahi CIDSS as an Assistant Bookkeeper. He was also once a Person with Disability focal in is barangay. He said "Namingaw na ako maghatag serbisyo sa mga tawo ngan mag-volunteer ha amon lugar kaya nalipay ako nga mayda Kalahi CIDSS na poydi ko maging boluntir. I miss serving the people and volunteering in our locality; that is why I am happy that there is an opportunity to be a community volunteer in Kalahi CIDSS program .
Doubts from other people are part of his struggles in taking the leadership, but he persisted to make his voice be heard even if physically impaired with his inborn clipto. He continued to walk for change despite also his orthopedic impairment.
"Bisan an iba nga tawo gin –question nira akon kakayahan waray ko hira pamatia ngan nagpadayun la gihapon ako. [Even if other people question my capabilities, I don't listen to them and still continue."]
He added "In return, ginpapamatian ko hira han ira mga suhestiyon ngan ideya para sa kauupay han amon bungto. [In return, I only listen to the suggestions and ideas that are for the betterment of the society.]
Today, Edwin became the barangay chairperson in Brgy. Villa Imelda.
Edwin remembered that when he was an assistant bookkeeper, he was still helped other volunteers in their tasks. Other volunteers depend on his planning and decision making skills. Because of the synergy of community and local government unit, they were able to accomplish sub-projects. He is proud how they have accomplished biggest Kalahi-funded health station under Kalahi CIDSS LGU-Led implementation in their municipality. Now, the health station is serving the 127 households in in the barangay.
He added how he really wanted to continue adopting the Community-Driven Development strategy because of its concept pro-people empowerment and participation. He said "Maupay talaaga nga ginpapamatian naton an mga tawo. Sa Kalahi CIDSS diri la kita na-focus sa pagtapos han mga proyekto. Naka-focus kita sa positibo nga pagbabag-o ha pamatasan han mga tawo. It is really good to hear people out. In Kalahi CIDSS, we do not focus only on the sub-project accomplishments. It is the positive change in the behavior of the people."
Because of Community-Driven Development, Edwin pledged to continue being the voice of the people.
In Kalahi CIDSS program, the line of biological impairment and social limitation is broken by the Kalahi CIDSS program.To date, the Municipality of MacArthur has 9 sub-projects under LGU-led implementation, targeting 1,384 households.