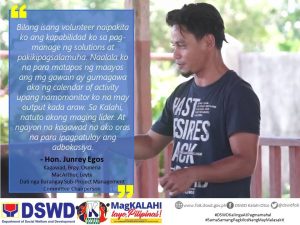 Volunteerism is naturally embedded in the hearts of Filipino. It has only be discovered, practiced and enriched. Volunteerism is giving service to people or community without having to think of incentives or something in return. Community Volunteerism is selfless; putting first the welfare of others before own personal interests or matters.
Community Volunteerism in the context of Kalahi CIDSS paved way to the discovery of individuals' capacities to lead in the development sphere. Ordinary people, if given the opportunity, can engage in local governance. The program gives birth to new leaders who ensure the gains of Community-Driven Development in the Philippines. One leader has been born in Brgy. Osmena, MacArthur Leyte. He is Junrey Egos whose strong leadership skills and true compassion made him won the trust of his residents and elected him as their barangay councilor.
Volunteering for Kalahi CIDSS and changing of heart
Junrey Egos never imagined his life being active in their barangay. He described himself as being officious and having no interest in development activities. He would call himself only a "tambay" or bystander. As a business minded-person, it is far from his personality to volunteer or work something without a return of investment. But when he was given the opportunity to chair the BSPMC committee, everything has set to change his perspectives and life.  He tried to attend to barangay assemblies to understand the program and drastically fall in love with the Community-Driven Development strategy. He later rediscovered his skills in management, planning, systematizing and organizing and applies it as a BSPMC chairperson.
As a leader, he became hands-on in financial management and sub-project monitoring.  He even taught the Procurement Team members how to handle and talk with suppliers. Together with CEF, he assisted other new Community Volunteers when involved in filling up documents.  He never stopped helping others because he believed that in Kalahi CIDSS program no one must be left behind.
As a new chairperson that time, he asked other BSPMCs from other barangays how they handled their implementation and queried for their lessons learned specifically in ensuring the sub-projects to be accomplished within the given timeline. He gave a word of honor to his community that they would finish their sub-project within the given timeline unlike previous experiences. He also thought of his own tactical ways. He made a calendar of activities to ensure tracking of movement of sub-project each day. He asked the support of their BLGU specifically to supervise the laborers during the implementation. In this way BLGU was ready to support the endeavor. Now they completed the 0.300km barangay road under Kalahi CIDSS Tier 2 with a budget of approximately 1.3 million before the set timeline. For Junrey, it was a great achievement already because it taught all of them to be disciplined and determined.
From his self-assessment, he has gained confidence and improved his interpersonal skills. He disclosed, "Dati madali nga nag iinit an akon ulo og mayda talaga ako sinisiring nga atittue problem labi na sa akon trabaho. Pero han nag-volunteer ako kay damo naman an akon na-handle na mga tawo hin magkaiba iba la an mga paglantaw tas batasan, tungod hini mas napaupay pa an akon social skills."  [Before, I was really hot-headed and have an attitude problem when it comes to work. But now that I have met and dealt people whom have different views and personalities, I can say that my social skills have improved.]
As a Community Volunteer, he became responsible person and citizen of his community. He further stated that his learnings as a community volunteer gave him a motivation to go back to school. He emphasized that formal and informal learning are equally important things anyone must experience.

Encouraging others to take the lead
Junrey believed that the residents are also like him; have the heart for volunteerism but await only for the time to unleash it. So, he encouraged ordinary people in their barangay to be Community Volunteers.  He motivated them to partake in any development activities because they could learn from it.
Their strategy in the barangay includes encouragement of others to be chairpersons -a chance of people to discover and enhance themselves as persons and citizens. "It is priceless if the ordinary people enhance their skills for their community and without knowing that they also benefit from it. Being a Community Volunteer is a tool and weapon they can use in everyday life situation."
He always says that a true leader produces another pool of leaders; thinking of ways to improvement of one's skills but also not giving up on others. He believed that there is great impact if champions in the communities work in synergy.
Earning accolades
He was given by the previous Sub-Regional Program Management Office the award for an outstanding performance as a BSPMC during a municipal awarding in the year of 2016 for his utmost dedication, compassion and hard work chairing the Kalahi CIDSS Tier 2.
Also, because of compassionate and collective action demonstrate by the community and BLGU , their barangay is the 4TH National Bayani ka! Awardee for Improved Local Governance. They made success possible through working together with trust and compassion to each other.
But he said, " Permi ako pamasalamaton hini nga mga awards pero an  akon la nga ginhimo ko la tak kaya para sa ak barangay." [ I can always be grateful of these accolades but for me I only do what I can for my barangay.]
New breed of leadership
His leadership skills brought him to public office when he was elected as barangay councilor in 2018.
Hon. Junrey Egos further stated, "My advocacy for CDD goes on now that I am a public official. I will always extend my help to my community without monetary incentives. I will always be a true public servant who works heart and soul for the welfare of people.
Into sustaining volunteerism with community
Hon. Egos has a vision to establish a group or an association of men and women wherein they can take steps to sustain development. He is encouraging most Community Volunteers to partake in the undertaking. He envisioned that the first the association will solve is an intervention for their livelihood.
He would always want to sustain Community-Driven Development wherein residents can organize and do steps to make project interventions.
The story of Hon. Junrey Egos is alike from other Kalahi CIDSS Community Volunteers'. Many Community Volunteers are currently barangay officials, barangay secretary and even absorbed by the government offices as employees.  May be different of plots but only tied in one thing and that is their true service to the community. These success stories are only proof of greatness of Community Volunteers in chairing and leading for the benefit of their communities.