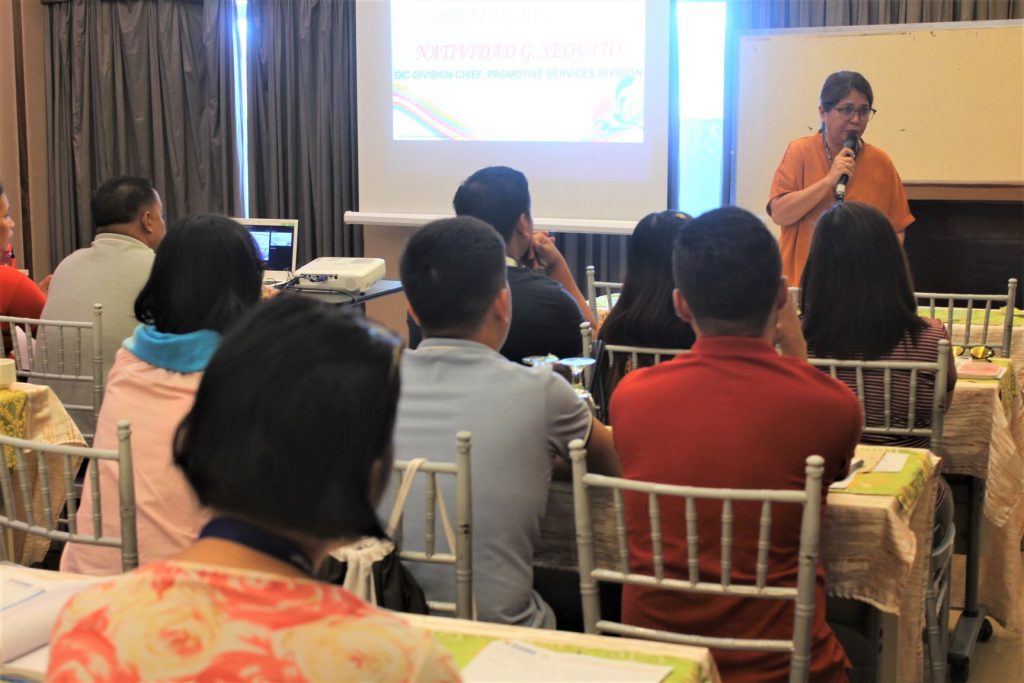 To boost business stability, profitability, and sustainability of Sustainable Livelihood Program-organized Associations (SLPAs), the DSWD-Sustainable Livelihood Program (SLP) conducted the first regional partnership technological symposium dubbed as "Partnership Forum cum Orientation on Innovative Projects and Technologies on Sustainable Livelihood" on May 24 at the Luxury Suites Hotel, Tacloban City.
The one-day activity, which was participated in by SLP Provincial Coordinators and SLP Implementing Project Development Officers (IPDO), highlighted potential business ideas that SLP beneficiaries could venture in. The said activity was also a way to prepare the field staff for this year's project implementation since the submission of project proposals for 2019 is in June.
"This gathering is a call to change the face of project proposals. We want technologies that are appropriate and responsive to the needs of the municipalities and beneficiaries," said OIC- Promotive Services Division Chief Natividad Sequito. According to Regional Monitoring and Evaluation Officer Erwin Sonio, the data showed that during the last two years of SLP implementation in Region 8, nearly 80% of project proposals were on rice retailing, hog raising, and agrivet stores.
"We are calling for developmental and sustainable interventions. We should ensure sustainable gains of the project," added Sequito. She also acknowledged SLP's partner agencies in achieving sustainability, as SLP field implementers need their expertise on emerging technologies in micro-enterprise and sustainable project.
Resource speakers from partner agencies such as Department of Science and Technology (DOST), Bureau of Fisheries and Acquatic Resources (BFAR), Philippine Coconut Authority (PCA), Department of Trade and Industry (DTI), Villaconzoilo Farm, and Children's Mission Philippines (CMP) discussed the various groundbreaking small-scale enterprises for SLP beneficiaries.
DOST Senior Science Specialist Imelda Picorro presented their agency's technologies for commercialization such as Vinegar Production using DOST's Acetator equipment, Rootcrop Flour Production (camote-made muffins and cakes) for SLPAs who are already into cassava flour processing, rice-based crackers and chips for SLPA with rice-retail business, squash catsup, dipped candles, rootcrops and vegetable processing, fish and meat processing, and technologies extending shelf life of ethnic products such as moron, suman and binagol.
Meanwhile, BFAR representatives Fervina Masola and Mikee Calibugar shared culture technologies of the following: milkfish, seaweed, tilapia, mussels, oyster and lobster, and mud crab. They also talked about the rice-fish system, which is an integrated rice field or pond complex, where fish are grown alternately with rice. Also present was PCA's Acting Project Development III, Minerva Langco, who discussed the numerous coconut technologies initiated by their agency. She also explained the procedures of Coconut Water, Coco Coir/Fiber Production, and Virgin Coconut Oil Processing. The methods used in value-added products such as buko pie, coco sap sugar, desiccated coconut, and buko juice were also discussed by Ms. Langco.
Mario Racquel of CMP introduced to participants their organization's goat-tendering scheme.
Alex Aborita of Vollaconzoilo Farm shared the story of how their association transformed their barangay from a "war zone to a tourism destination." In the past, Barangay Villaconzoilo was considered a haven of communist rebels.
The Villaconzoilo Community Association (VCA) was organized in 2009 by Aborita. They started with a capital of P1,800 that was pooled from personal contribution of the members. From planting organic vegetables in a 500-square-meter lot, they are now cultivating 23 hectares of land. Presently, the asset of VCA has already reached to P25 million.
They were also able to establish the Villaconzoilo Farm School, the first farm school in Leyte. Aside from that, the group has also transformed the place into a "healing and wellness farm resort" with a farm-to-table restaurant that usually serves organic food to guests. Last year, they opened a swimming pool using spring water.
Their success has translated to improved lives as families who were Pantawid Pamilyang Pilpino Program (4Ps) beneficiaries were remarkably reduced from 76 to just seven (7) 4Ps beneficiaries to date.
On the other hand, DTI Officer Anthea Aivi Borbon informed the participants about their agency's interventions available to small scale industries. Borbon presented DTI's various sub-programs helping local entrepreneurs develop, enhance, package, and market their product to local and international consumers.
SLP Regional Partnership Officer Noel Villones, who initiated the said activity, expressed his gratitude to the agencies and organizations who shared invaluable support to SLP.
"We are grateful to our treasured partner agencies for accepting our invitation to share to us their knowledge and expertise, "said Villones. He added that with the fresh and innovative approaches discussed, SLP is ready to implement the new strategies leading to sustainable livelihood projects.
"I am optimistic that with the guidance of our Provincial Coordinators and IPDOs, we can achieve the outcome we want- that is to be able to propel our beneficiaries to success. The kind of success that is substantial and sustainable."
After the said activity, the field staff are expected to conduct a consultation meeting with SLPAs and LGUs to identify profitable projects and technologies suited in their municipalities. SLP also encourages the program participants to use resources that are available and abundant in their municipality or barangay.
SLP is a capability- building program that seeks to help the poor, vulnerable and marginalized families and individuals improve their socio- economic conditions through providing them access to thriving livelihood opportunities.