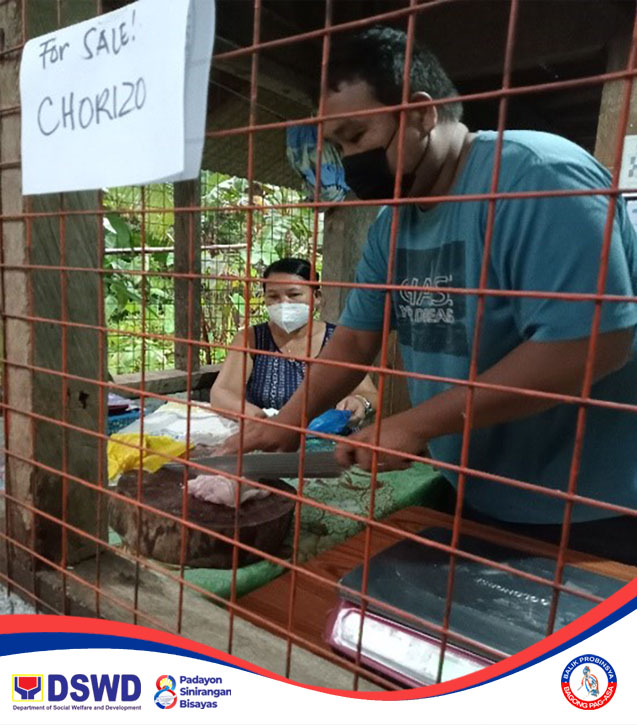 Holding onto that little hope
Life in Manila became harder during the height of the pandemic."
This is the remark of couple Randy and Elena Milo when asked how their family was doing when the COVID-19 pandemic struck in the Philippines, particularly in Metro Manila.
Randy continued to share about their adversities in the midst of a health crisis. He said that both their employers implemented 'No work, No pay' policies which strained their abilities to afford their basic necessities including their Php 5,500 house rent.
"It has been really difficult since the pandemic, due to enforcement of lockdown measures, both our companies implemented the 'No work, No pay' policy. In a week, we were called by our employers for only two or three days to take on duties. It was challenging to pay for our rented house, electricity, water and daily sustenance."
Randy Milo was working as a maintenance utility in a hospital while his wife Elena was a sales clerk in a store.
"We cannot rely on the assistance from barangay because it is not every day that they can provide us with relief goods. We found it hard also to go out due to rising cases of COVID in our barangay. It was really difficult to earn a good living during the pandemic" Elena added.
For Randy and Elena, there was only one hope to overcome their adversity and that is to go back to the province of Leyte to start anew. But another challenge came out of the picture; they did not have enough money nor savings. They were barely scraping by. Their income is not even enough to sustain themselves.
Fortunately, they heard news about the Balik Probinsya, Bagong Pag-asa (BP2) program on the television and what it offered to the low-income families in Metro Manila needing assistance to resettle in their provinces or communities. Immediately, they registered to apply for the program.
"We have long wanted to go back specifically in Tabon-Tabon Leyte where my hometown is, but we did not just have fare. Good thing, there is BP2. It was the only hope we had at that time."
GOING BACK HOME AND STARTING OVER THROUGH THE BP2 PROGRAM
After assessment and validation, the Milo couple was included in many families which were given the chance to go back to their provinces through the BP2 program.
Just like other beneficiaries, the couple underwent a series of dispatch proceedings from registration to swab testing for COVID-19 before they were able to go back to their provinces.
In May 2021, the Department of Social Welfare and Development provided Randy and Elena with family food packs (FFPs) upon their arrival at the Tacloban airport. The family food packs aim to sustain the family beneficiaries during the first few days of their transition.
Upon their arrival to their hometown in Tabontabon, Leyte, they were brought to a quarantine facility and underwent a 14-day quarantine.
NOT WASTING ANY HELP GIVEN BY THE DSWD
On June 15, 2021, the Balik Probinsya, Bagong Pag-asa (BP2) program, through DSWD's KALAHI-CIDSS program, the Milo couple received a transitory family support package worth Php 55,000.00.
The Transitory Family Support Package is a cash support to cover food and other basic needs during their transition period in their hometown.
Randy and Elena wanted to maximize the assistance received from DSWD and bought their daily food and non-food needs. They also found new ways to earn while waiting for the assessment results for the Livelihood Settlement Grant (LSG) under DSWD's Sustainable Livelihood Program (SLP). Thus, they decided to spend the remainder of their Transitory Family Support Package on building a small store and buying a chest freezer to sell frozen goods.
Livelihood Settlement Grant (LSG) is a start-up financial assistance to family beneficiaries to help them establish their sources of income and or livelihood.
After assessment and validation conducted by the Project Development Officer of the Sustainable Livelihood Program, they received their Livelihood Settlement Grant worth 50,000 based on their approved project proposal. They used it for their capital.
With the LSG, they applied for a business permit and bought another freezer and augmented their inventory with products including kikiam, fish ball, hotdog, chicken feet, burger patty, longganisa, french fries, dressed chicken etc.

MICRO-ENTERPRISE HELPS MILO COUPLE COPE DURING THE PANDEMIC
As they established their micro-enterprise, they gained regular customers and suppliers for frozen goods. With their store being in an accessible location, their target market expanded to nearby barangays and their sales and profit doubled.
Months after starting operations, The Milo couple now earns at least Php 6,000.00 a month. The store's income now helps them cover their daily expenses and electricity bill.
"When we first arrived in Leyte we only relied on my sister for our daily expenses. When the assistance provided by DSWD came under BP2 we were able to support our needs. We don't even worry about food anymore.", said Randy.
The couple also decided to save Php 200 each day. One thing they learned during the pandemic is that savings are a lifeline in times of crisis.
 Balik Probinsya, Bagong Pag-asa enables Milo family to thrive
Armed with the knowledge and skills from her previous work as a saleslady, Elena applied simplified bookkeeping in handling their micro-enterprise. She manages all the financial expenses while Milo is the one handling all the records.
As of this writing, their business is doing well. They hope to expand soon and are planning to buy another freezer to sell ice cream.
Grateful for the claimed beginning
The BP2 program gave the Milo couple a chance to start a new life in their home province. They have nothing to say but gratitude towards the DSWD and the BP2 program's for the help and support it gave their family.
"Many thanks to the government. Through DSWD under the Balik Probinsya, Bagong Pag-asa (BP2) program, we were given a fresh start in the midst of the pandemic. Although we lost our work due to the pandemic, we were fortunate to be beneficiaries of the program and we were able to start again in the province. This is a great help to my husband and I and we will not disappoint you, we will expand our micro-enterprise. God bless! "